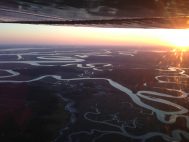 Our most popular air tour in the Cessna 195
Sip champagne and enjoy a sunset flight in our comfortable Cessna 195 businessliner. Very romantic for couples!
We'll take off right before sunset and fly over the colorful landscape of the South Carolina Lowcountry and Edisto River while the sun sets on the horizon.
You will experience the unique beauty of flight while in the hands of our expert flight instructor.
Experience Aviation the Real Way!
Up to 3 passengers per flight.