Tailwheel Flight Training
We are the tailwheel flight training specialists. We have the airplanes, the instructors and the experience so you can learn all there is to know about flying tailhweel airplanes.
Fly with us and earn your pilot certificates or your tailwheel endorsement.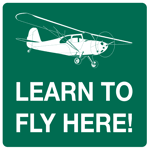 You will have fun!
---
We Love Taildraggers!
Dual instruction is performed in the Luscombe 8E, Cessna 120, Citabria 7KCAB, Cessna 170B, Stearman, Cessna 195 or in your airplane!
Luscombe, Champs, Citabria, Scout and Super Decathlon.
Stinson, Piper Cub, Super Cub, Pacer, Taylorcraft.
Experimentals like Highlander, SuperSTOL.
Cessna 120, 140, 170, 180 series.
Stearman, or Cessna 195.
Rare vintage or classic aeroplanes!
---
Become a Pilot!
Earn your pilot certificates in a taildragger or get your tailwheel endorsement with us. Our tailwheel flight training is fun and we are sure you will enjoy it by discovering a side of aviation very few get to enjoy. Ultimately, it will make you a better pilot because you have to "fly the airplane" at all times, even while taxiing on the ground and you will be having a good time doing so.
You will learn all the knowledge and skills necessary to become a well rounded tailwheel pilot!
---
Aviate, Navigate, Communicate, Mitigate.
First, "Aviate". Fly the aircraft! You will learn or re-learn proper "Stick and Rudder" flying skills and fly the airplane precisely and safely in various conditions. It's all about becoming "one" with the airplane and never stop flying the aircraft! Again, fly the airplane!
Second, "Navigate" is knowing your position and direction at all times. You will learn "Dead Reckoning" navigation. No FMS – No GPS – No Ipad. All you'll need is a chart, compass, clock, navigation log, and most importantly looking outside. We do it the Old School way… Your situational awareness will reach new heights.
Third, "Communicate" focuses on radio communication with other pilots, ground personnel and air traffic controllers. You will practice how to make accurate position reports, convey your intentions, and help other pilots using the proper aviation phraseology. You will be a pro on the radio! Or…, we can also do it the Old Fashion way looking outside…, you were already looking… Right? Some airplane don't have radios! It could be yours… When is the last time you reviewed your light signals or wondering "why is this pilot not talking on the radio?"
Finally, "Mitigate" emphasize on how to make the right decision, at the right time and for the right reasons.
For example: It's getting late…, you are over mountainous terrain…, your engine is running rough…, you start smelling smoke…, oil is on the windshield…, the ceiling is getting lower…, then the prop stops…, your stress level is up! What do you do now?
---
Our CFIs provide training tailored to your needs. In our airplanes or yours. We'll teach in any aircraft, from the Piper Cub all the way to the Cessna 195. As long as it's a Taildragger!
We also offer aircraft ferrying and transition training for all conventional landing gear aircraft. We can provide transition training at the time of ferrying or anytime afterward.
---
---
---
Prices may change at any time without further notice. We reserve the right to change our prices at any time without further notice. Ace Basin Aviation accepts Cash, Checks, or Credit Cards. Inquire about other forms of payment.